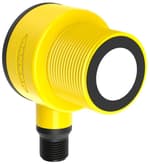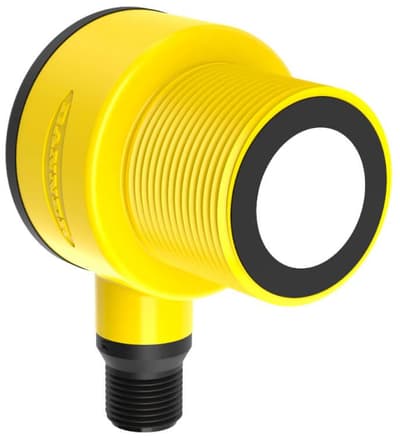 Images are representations only.
Description
Compact, right-angle ultrasonic sensors with built-in temperature compensation.

Available in Analog or configurable discrete models.
Features
Offers choice of user-selectable NPN or PNP discrete or 0-10 V dc or 4-20 mA Analog output.
Available with range of 100 mm to 1 m, 200 mm to 2 m, or 300 mm to 3 m.
Delivers high-accuracy performance with built-in temperature compensation across a wide range of ambient temperatures.
Configurable discrete model allows users to select normally open (NO) or normally closed (NC) output and NPN or PNP output type.
Available with Analog output for applications requiring a continuous current or voltage output.
Housed in T-style right-angle housing with 30 mm threaded nose.
Simplifies setup with push-button TEACH programming of custom sensing window.
Allows remote TEACH for added security and convenience.